Aim and benefits of Visual Communication
My goal is to help you become a more effective communicator. Everything I teach is focused on understanding and usefulness, because I know that smart people want clear, concise, and actionable advice. The workshop content has been stripped down to the essentials to efficiently utilize your time.
This training is an experience you can completely immerse yourself in. Whether it's a short webinar or a 2-day workshop, everything you learn is structured, memorable and the experience is fun. If I am successful, I'll change the way you think about communication – not just in your academics, but in your life.
"After the Visual Communication workshop, our research team has a completely new vocabulary to discuss how to prepare our publications. It has changed how we approach our research communication."
– Prof. Dr. Kristina Djinović-Carugo, MFPL
Workshop Topics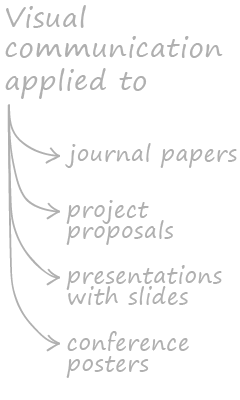 The content is complementary to what is usually taught in graduate courses. We focus on the lessons researchers are supposed to 'just pick up' on their own and present them in a distilled form that is easy to grasp, hands on, and the participants will be able to apply to their publications right away.
---
Best for research fields:
medical and health sciences
biological sciences
chemical sciences
environmental sciences
veterinary sciences
earth sciences
technology and engineering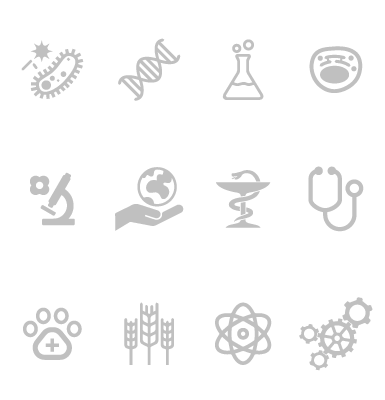 ---
What's the problem and how we help solve it?
Scientists increasingly search for research papers almost exclusively online
The information seeking behavior of scientists has been moving online in the last decade. Recent surveys show that already approximately 9 out of 10 life science researchers use internet search engines for their literature survey. If you are a scientist, this means that interested readers will most probably first encounter your research publications online. Now this is a paradigm that most scientists have yet to embrace. Instead of paper magazine tables of contents, your papers appear in results of a web search or some other database engine. Potential readers skim the titles in order of priority as they are served, and then skim only a minority of papers, their attention mostly focused at images and other graphics.
Traditional curriculum lacks many crucial skills
While a growing number of universities provide early stage researchers with some sort of formal training in scientific writing, very few discuss topics from visual communication, which are nowadays gaining in importance. As there is no formal training, researchers are supposed to 'just pick them up' on their own, which is very unfortunate. Such pursuit requires interest, motivation, a lot of individual effort, and is thus seldom pursued.
Our training complements what is taught at Universities
In many cases, the outlook of your scientific papers contributes to the level of credibility the reader assigns to your findings. This is not only due to some sort of vanity. Well designed figures help the reader understand your findings effortlessly and in less time, instead of being irritated by having to decipher the non-clear graphics. I have prepared these courses because it is something I would have benefited from tremendously when I started my research. You could read a huge stack of books and papers, but fortunately I have done that for you, and distilled the content into the form of Seyens courses.