Visual Communication of Science Workshops

Workshops and seminars
We run on-site workshops (1–2 days)for smaller groups and interactive seminars (1–2 h) for large audiences.

Work on own materials.
Participants send their publications in advance and we comment and work on their materials during the event.
Complementary skills
Principles and best practices from graphic design and visual perception applied to scientific communication.
---
Our Workshops and Seminars
Visual Communicationfor ScientistsWORKSHOPPDF flyer download
CustomizableTrainingWORKSHOP
Venue
At your university, research institute or company
Each participant takes home
A graphical abstract: own drawn, one or multiple.
Duration
2 days
1 day
Audience
PhD students,postdocs & others
PhD students,postdocs & others
TOPICS
Essential visual communication
✔
✔
Colors & fonts
✔
?
Posters (for conferences)
✔
?
Slides (for presentations)
✔
?
Data visualizations (charts, graphs, plots …)
✔
?
Figures (visually consistent)
✔
?
Project proposals
✔
?
Image file-types
✔
?
Organizer can chooseto emphasize or omit any topic.
Organizer can choose1–5 additional topics.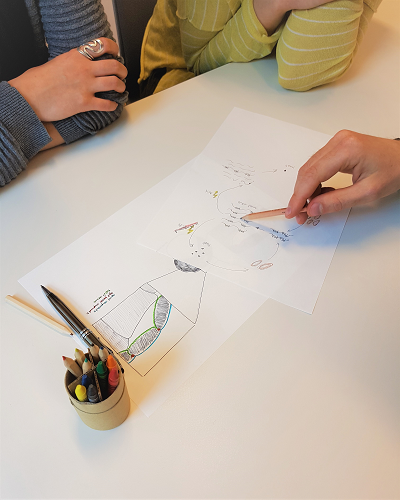 In our 2-day workshop, you will learn how to visually communicate your complex research ideas and results so your messages are effortlessly understood by any specific audience. The workshop helps PhD students, postdocs, and also senior researchers grasp how our visual perception work and how to apply knowledge from various disciplines to communicate effectively. We will also discuss data visualizations, colors, typography, image file formats, and the knowledge will be applied to journal papers, project proposals, conference posters, and slide presentations.
We comprehensively address all aspects of visual communication that are necessary for scientists. The workshop is very interactive and we discuss examples from slides, posters, and papers, that participants send in advance. We also apply the principles in an exercise where everybody draws a graphical abstract of their research and gets in-depth feedback.
How we work
We run our training on-site at the host institution. Participants send us their publications before the event so we can work on the examples relevant to them. The content of the workshop can be adapted to the interests of the specific audience.
Workshops are limited to 20 participants.
Participants receive printed handouts.
Organizer provides whiteboard/flipchart, projector.
Cost of training is provided on enquiry.
For institutions with a high number of interested researchers, we organize the training on consecutive days. On the first day we run several seminars which all participants attend. On the following days we run workshops for smaller groups.
Questions?
Contact us with non-binding expression of interest for workshops or seminars. For pricing, we require the following information: which workshop or seminar, your institution, potential dates, audience size and their fields of research.